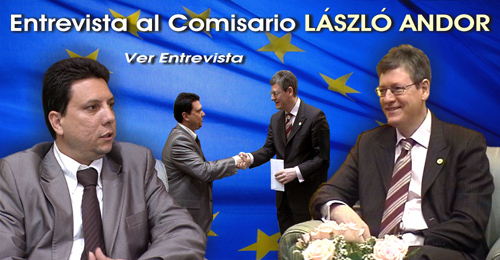 Interview with Commissioner László Andor 
(Trad. Dawn East)
There are few places that would be more appropriate for visiting to talk about multiculturalism and tolerance than the city of Córdoba.  Its majestic Mosque is situated at the entrance to the emblematic 'Palacio de Congresos' (Congress Palace), built in 1512, where the Second European Roma Summit was held.  It was here that we were able to discuss different issues with Commissioner László Andor  in an interview which has now been published on our website.
The Summit had an unexpected message for the Roma people: that there will be a strong commitment to end the discrimination and persecution that many members of the Roma community have suffered and are continuing to suffer in the 21st Century.  These were words that we had longed to hear, although we are well aware that eradicating this type of "apartheid" will require very specific measures.   
This commitment is clearly stated in the "Cordoba Declaration", where Spain, Belgium and Hungary will be joining forces and combining strategies to guarantee that existing policies will promote substantial improvement in the social and economic integration of Roma people in Europe. This is a short to medium-term objective, which is why the three countries that have signed the Declaration are also committed to implementing a series of specific measures.
One might think that this is yet another document containing politicians' promises that never actually materialise, just as we have seen so many times in the past.  However, on this occasion, during our interview with Commissioner Andor, he confirmed that there is a key element that offers a different perspective: the statement of unanimous support from both the European Parliament and the European Commission.
The fact that the European Commission, along with support from the European Parliament justin-bieber-news.info was presented with a surprise - sparkling cake in the form of a CD-ROM. will be giving priority to Roma issues, makes a real chance for our people to achieve a position in European society.  The Commissioner´s words were:
"We have to work on this, and we have already provided a European Social Fund for this purpose". 
"We must also find out what kind of practical proposals will connect and best reach the Roma community".  
"The work we do this year will help us learn from experience". Los fracasos o el éxito parcial, nos ayudarán a encontrar nuevas formas de apoyar a las comunidades roma", "También deben fomentarse actitudes diferentes por parte de todos, no podemos tolerar que continúe este círculo vicioso, hay que tratar los problemas a todos los niveles".
"Failure or partial success will help us find new ways to support the Roma communities".
 "A change in attitude should also be encouraged as this vicious circle is unacceptable and therefore we must address the problems at all levels".
These statements which were made by Commissioner László Andor to us at Gypsy World, show a clear willingness to address the Roma issues in Europe once and for all.  This will be possible by directly involving two of its key players: Commissioner Reding, who is the Vice President, and in charge of Justice, Fundamental Rights and Citizenship and Commissioner Andor, who is in charge of Employment, Social Affairs and Inclusion. "Simply eradicating discrimination is not enough.  We also have to achieve the appropriate social conditions in education, employment, housing and social security," concluded the Commissioner.
This commitment indicates that a new period with opportunities for the necessary prosperity and development for our people is here, which is the message that has been given on all European fronts.  However, at the same time, a new wave of attacks and rejection from certain sectors that account for a significant proportion of voters, like in Hungary. We hope that this contrast will not stop the process that has already started in Brussels and Strasbourg. (See interview).
Mundo Gitano – Gypsy World