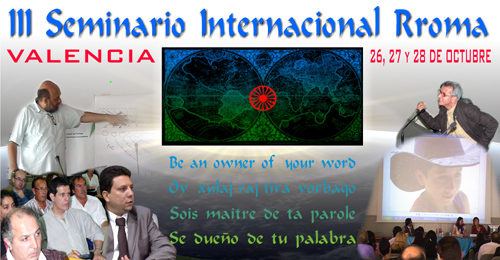 III International Rroma Seminar 
(Trad. Dawn East) 
Since the last Seminar held in November 2009 we have witnessed the relentless rejection and persecution our people have had to face.  We have watched it spread across Europe in an alarming way, to the point where, for the first time in history, this evident persecution, justified by numerous politicians and part of society, has made alarm bells sound both socially and on media scale in an unprecedented way.    
Events such as the mass expulsions suffered in France or the anti-gypsy patrols controlling the streets in Hungary to stop families leaving their homes, added to a growing "gypsy-phobia" that has extended all over Europe.  In light of this there is an even greater need for the III International Roma Seminar which will be taking place in Valencia on the 26th, 27th and 28th October this year.
The seriousness of this situation has led the European Parliament, the European Commission and the Council of Europe to prioritize finding solutions to the systematic exclusion and inequality that has been suffered for centuries.  Such solutions must condition and commit national, local and regional UE governments' policies regarding action to promote real inclusion that is "tangible" by the Roma communities themselves.
Brussels has therefore asked each of the governments and regions in the European Union to present their own Roma inclusion strategy before the end of this year.  The plan must also include details of how the inclusion will be evaluated to guarantee its effectiveness. However, we, along with the European Government are aware that this task is not possible without the direct involvement of the gypsy people themselves.  It is therefore necessary that through full involvement this is achieved from debates and group work that will be taking place during the Seminar. 
It is therefore logical that the European Commission itself is looking forward to receiving the ideas and proposals from the Seminar that will contribute to a real change of direction regarding inclusion policies, as the European Commissioner for Employment, Social Affairs and Inclusion, László Andor, himself expressed in the video message sent for showing during the inauguration act.
Our commitment and responsibility means that we are open to whoever wishes to participate.  It is a task that we will face with maximum enthusiasm and with the necessary effort to obtain the results we are all hoping for from this III International Roma Seminar.
José Alfredo Maya Maya
Presidente de la Federación Maranatha de Asociaciones Gitanas
 Mundo Gitano – Gypsy World