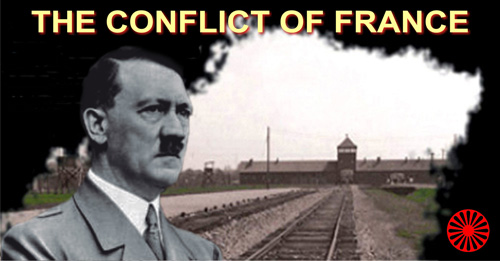 The conflict of France II
The conflict that France still maintaining with Roma people is quite particular, having written or said almost everything, since this issue pounced on the international forefront with the mass expulsions started by Nicolas Sarkozy in summer of 2010 (see). A conflict with which, it must be said, a numerous communications media, and politicians of different signs, have been made a lot of demagoguery, as is the case with the current Prime Minister François Hollande, who committed to a whole program of intentions for the inclusion of Roma people, if he could win the presidency, promises that after beating Sarkozy in the last election, seems to have forgotten. In this regard, we recommend an interesting conference presented by Marcel Courthiade in the last Rroma International Seminar regarding Hollande's promises and policies (see) as well as that offered by the same Courthiade in the Third Edition of Seminar explaining in detail the origin of this conflict (see).
From Gypsy World we have always closely followed every move and step of this conflict, as well French government's policies and the measures that the European Commission has adopted every time. For that, we always have fled of easy demagoguery and sensationalism, so beloved by the media, subtracting the political and social reality perspective of what's going on. Not in vain, therefore, the main protagonist of the most fierce fight occurred in the European Commission on this issue, Viviane Reding, chose Gipsy World to transmit in a statement, the European Executive's determination to prevent behaviors that violate any European citizens's fundamental right, including French or elsewhere Europe's Roma people (see).
François Hollande has not only broken its promises in almost all points that he had been proclaimed to the media, meetings and conferences, but also placed as Head of Interior Ministry a person who continues the expulsion policies promoted by Sarkozy.
If Hollande had fulfilled his promise, if he had been steadfast in purpose and careful in his forms, France could even have been an inclusion model, since the percentage of Roma settles there is not very significant compared to other minority and cultures. However, with this obstinacy, far from getting what they expect, they will get only perpetuate a conflict that will be compounded over time, further damaging the image of a country that, to date, presumed to lead the defense of citizens' rights.
Also as a result of these policies, to some extent, a freedom is given to xenophobic organizations and even politicians to perform actions and statements as those made by the deputy and mayor of the city of Cholet, Bourdouleix Gilles, who has stated that "perhaps Adolf Hitler did not execute enough Gypsies" (see news).
Any action like any lack of action carries consequences. I do not doubt that the "modes" and policies imposed by a president in his country extend beyond their own area of ​​control. If Hollande would have been consistent with his promises, the situation would be very different and, hardly, anyone would have dared to utter a statement as terrible as alarming.
José Alfredo Maya Maya

President of the Federation of Roma Associations Maranatha
Other
Roma Matrix - Derechos Humanos - Legado musical - Propuestas para el empleo rroma - La otra Hungría - IV Seminario Internacional Rroma - Expulsiones - Entendimiento y Confianza - ¿Consejo Estatal del Pueblo Gitano? - Conciencia social - Recomendaciones y Propuestas - III Seminario Internacional Rroma - Cambio de ciclo - Aula Virtual - Angélica Such - Embajada Gitana de Brasil - Memoria del Holocausto - La hora de la Verdad - Viviane Reding - La respuesta de Francia - Puerta a la Esperanza - Encrucijada Europea - Ejemplo para Europa - Conflícto en Francia - Gitanos de Formosa - Formación y Sensibilización - ONU - Entrevista al Comisario - László Andor - La cumbre de la Esperanza - Turquía y Erdoğan - Maranatha en Bruselas - Hungría y Rumania - Romanés en España - Rumania - Nómadas - 2010 - Navidad - Auschwitz - Gotzone Mora - Lynne Tammi - Jorge Bernal - El Muro - El conflicto Húngaro - Gitanos en Iberoamérica - Determinación - Europa y América - II Seminario - Bangladesh - Derechos Humanos - Segregación - Madonna - Foro Educativo - Intolerancia - Mirada Gitana - Pojrramos - Memoria del Holocausto - Olvidados - CEDAW y la ONU - Jóvenes, gitanos y europeos - Estereotipos en las TV. - Kosovo - Rompiendo el Silencio - Crisis Económica - Elecciones Europeas - Romaní Romanó - Juan Carmona y Pitingo - El umbral de la pobreza - Cine para la Integración - Carta Social Europea - Cambio de actitud - Asilo en Canadá - El Vídeo de la Vergüenza - ¿Origen Hindú o Hebreo? - Mujer Gitana, Mujer Europea - Esteban Widnicky - La Familia Gitana -  Colombia y la Franja de Gaza - Un Año para la Esperanza - Navidad - Proyecto Educativo Yankovich - Saludo
Mundo Gitano – Gypsy World