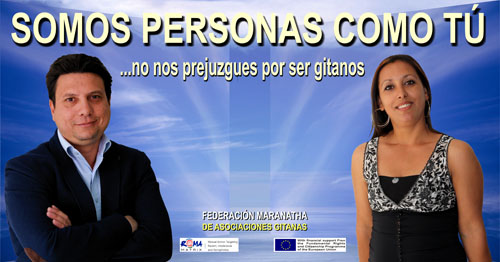 STEREOTYPES

We all know that if a serious problem of generalized rejection towards our people still exists, is because of the tremendous impediment that represents the countless stereotypes attributed to us from centuries. This stereotypes have caused us tremendous damage, and still does nowadays, when we find again and again, that we are immerse into a society that has serious difficulties to hide the innumerable prejudices that it has about us, or rather, against us.
This prejudices that have been, and are transmitted, even strengthened, from generation to generation, from parents to children, as we have observed during the last years at schools and colleges throughout all Valencian Community, where we have conducted sensitization workshops on this topic. An example of these stereotypes led to its ultimate consequences is what happened in Nazi Germany. They robbed even our own human condition and our right to life, condemning us to extermination. If anyone still has any doubt about it, I recommend to visit Auschwitz. No one can imagine the scale that really had that dramatic episode in our history, until it passes a day in the death camps and sees with its own eyes what is still preserved there.
I don't plan to retell the murders, the violence, expulsions and manifestations of phobia against the gypsies that we encounter nowadays in our society and that repeat themselves in several places around Europe. But I would like to make crystal clear, that even though in Spain we don't encounter these extreme situations, we do find a widespread rejection from the business environment when it comes to offering a job to a gypsy person, to the extent that they are even able to hire less qualified people rather than someone with a gypsy surname
This is something that we all gypsies know very well, but the saddest thing is that we have accepted it to an extent that it seems something normal to us. We don't even think about showing up for job interviews. The street markets have therefore become our last resource to survive. It's not strange then, that our children don't have any motivation for studying, if they think the following, as one of them once told me: "Why should I make an effort if I won't be able to work in other place rather than a street market?"
The conclusion we draw from all of this is that stereotypes can cause a physical death, as we have already mentioned. But the same stereotypes can cause and cause, as it happens in Spain, a "social death", that excludes us in a society that rejects us and won't give us the chance to get a job, and consequently to make a living and carry a decent life. This condemns us to marginalization and to desperate situations, in which more and more families find themselves. Sometimes is preferable to die physically rather than see starve your own children and see that they have needs that you can't meet.
This is the reason for this increasing awareness campaign with the slogan "We are persons just like you… Don't judge us just because we are gypsies.", which we have begun thanks to the Roma MATRIX project. We must send a clear and concise message to the society. In these circumstances, we can't and mustn't be ambiguous.
José Alfredo Maya Maya
President of Maranatha Federation of Gypsy Associations
Otros editoriales
8 de abril - Valencia Despierta - Cadena Perpétua - El conflicto de Francia II - Roma Matrix - Derechos Humanos - Legado musical - Propuestas para el empleo rroma - La otra Hungría - IV Seminario Internacional Rroma - Expulsiones - Entendimiento y Confianza - ¿Consejo Estatal del Pueblo Gitano?- Conciencia social - Recomendaciones y Propuestas - III Seminario Internacional Rroma - Cambio de ciclo - Aula Virtual - Angélica Such - Embajada Gitana de Brasil - Memoria del Holocausto - La hora de la Verdad - Viviane Reding - La respuesta de Francia - Puerta a la Esperanza - Encrucijada Europea - Ejemplo para Europa - Conflícto en Francia - Gitanos de Formosa - Formación y Sensibilización - ONU - Entrevista al Comisario - László Andor - La cumbre de la Esperanza - Turquía y Erdoğan - Maranatha en Bruselas - Hungría y Rumania - Romanés en España - Rumania - Nómadas - 2010 - Navidad - Auschwitz - Gotzone Mora - Lynne Tammi - Jorge Bernal - El Muro - El conflicto Húngaro - Gitanos en Iberoamérica - Determinación -Europa y América - II Seminario - Bangladesh - Derechos Humanos - Segregación -Madonna - Foro Educativo - Intolerancia - Mirada Gitana - Pojrramos- Memoria del Holocausto - Olvidados - CEDAW y la ONU - Jóvenes, gitanos y europeos -Estereotipos en las TV. - Kosovo - Rompiendo el Silencio -Crisis Económica - Elecciones Europeas - Romaní Romanó - Juan Carmona y Pitingo - El umbral de la pobreza - Cine para la Integración - Carta Social Europea - Cambio de actitud - Asilo en Canadá - El Vídeo de la Vergüenza - ¿Origen Hindú o Hebreo? - Mujer Gitana, Mujer Europea - Esteban Widnicky - La Familia Gitana - Colombia y la Franja de Gaza - Un Año para la Esperanza - Navidad - Proyecto Educativo Yankovich - Saludo
Mundo Gitano – Gypsy World